MYCAMP
Caravan Campground Český
Krumlov - Chvalšiny
Camping Chvalšiny is a cosy family campground nearby the magnificent city of Český Krumlov, which has been included on the UNESCO World Heritage list since 1992. The campground lies on the edge of the village Chvalšiny and includes a beautiful view of the protected national forest Blanský les. The campground has around 150 camping spots and is perfectly accessible by both caravans and recreational vehicles (RVs).
ACTIVITIES
Take a moment and appreciate the beauty of the area surrounding the campground. Play sports, get some rest, have fun, play games, and go hiking, all of which can be enjoyed in the beautiful protected national forest nearby.
RENT
Book a camping
spot rental or accommodations
Cancelling your reservation is free.
for your caravan, RV, or tent. Every camping spot has a minimum of 120 m2. Book your spot according to the desired sector below. Every spot comes with a 220V connection. Only sector "S" includes some spots without a connection.
we offer you a three-bedroom house for 6 people for year-round use. The house is fully equipped, has two parking spaces and a terrace with a view of the pond, the whole camp and the Klet' mountain.
We now offer 2 cabins or Tiny Houses in our camp. They are designed for a family of four, have their own shower and toilet, kitchenette. Outside there is the possibility of sitting under the shade with a barbecue. We spent a lot of time on them and the result is worth it. Tiny Houses are in Scandinavian style and thez are beautiful and cozy.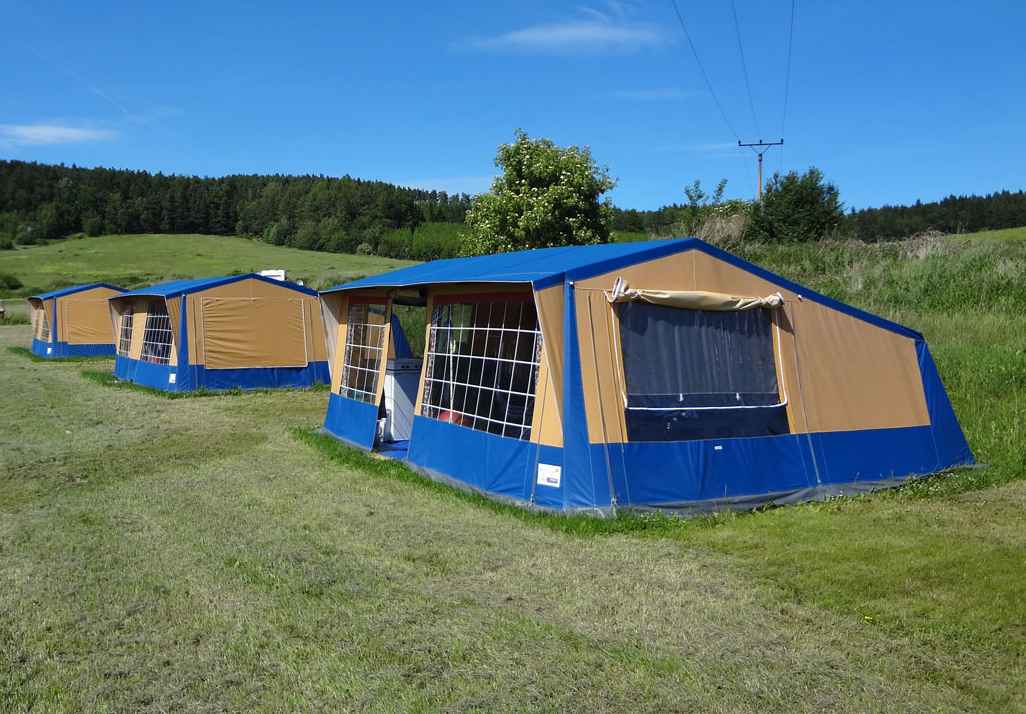 We offer luxurious bungalow tents with five beds. Each bungalow tent is fully furnished and you can even cook and grill here. Park right next to your tent. To book a bungalow tent, you must use our reservation system at https://www.tentfactory.nl/camping-chvalsiny-tsjechie/, where you'll also find other necessary information.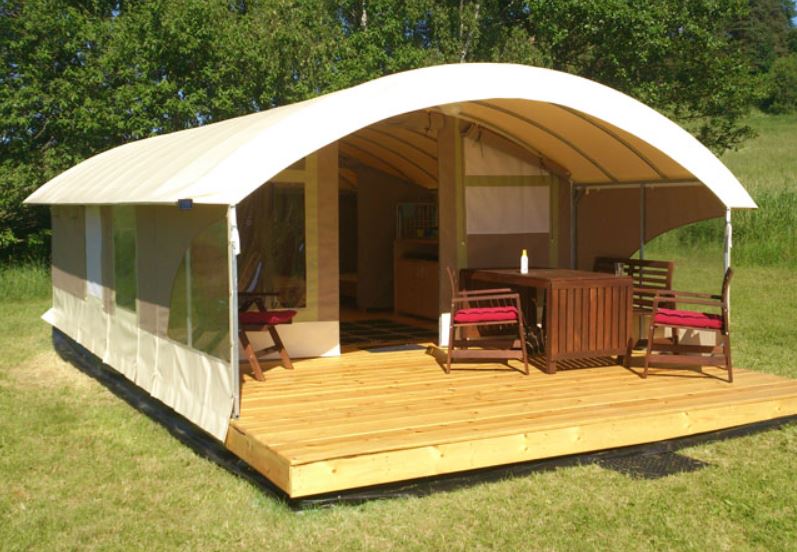 We are planning other accommodation options.
For the next season 2024 we are planning to expand the current offer of the campsite with additional accommodation options. Follow the news on the website or facebook. 
CHVALŠINY
Campsite facilities
Hello, hello... Can you already hear your incredible holiday at Camping Chvalšiny calling?
NEWSLETTER
Recent events at Camping Chvalšiny
We had the opportunity to spend a weekend at the campsite in the cottage back in the autumn. We were a little worried about the weather and the cold, but we heated ourselves in the stove, the wood was ready and the atmosphere was cozy in the house. Beautiful scenery all around, deer grazing just a short walk from the house. We even cooked our own meals in the kitchen, which is amply equipped. One day we went to Cesky Krumlov and the next day we hiked up Klet' mountain. The kids were thrilled with the playgrounds right at the campsite and also helped feed the animals in the farmhouse. We definitely want to go back one weekend in the winter when everything is covered in snow. A lovely escape from the city, I can only recommend it.
We are older people and so we really liked the opportunity to stay one night in Camping Chvalsiny by chance, when the owner offered us to stay in a house in the camp. While we love to camp, we really appreciated all the comforts of the cottage and yet we had the whole campsite to ourselves from the terrace as it was out of season. We are thinking of returning in the summer with our grandchildren.
Měli jsme možnost strávit v kempu v domečku víkend již na podzim. Měli jsme trochu obavy z počasí a zimy, ale topili jsme si sami v kamnech, dřevo bylo nachystané a atmosféra byla v domku útulná. Překrásná příroda kolem dokola, srnky se pásly jen kousek od domu. Dokonce jsme si uvařili jídlo v kuchyňce, která je dostatečně vybavená. Jeden den jsme si vyrazili do Českého Krumlova a druhý den si vyšlápli na horu Kleť. Děti byly nadšené z hřišťátek přímo v kempu a také pomáhaly krmit zvířata ve farmičce. Chceme se určitě vrátit jeden víkend v zimě, až vše bude zapadané sněhem. Krásný únik z města, mohu jen doporučit.
Geweldige camping, schoon sanitair. Goed eten in restaurant op de camping. Jammer dat er dit jaar geen bbq was, dit ivm corona.Volgend jaar weer.
Een gezellige, schone en mooie familie camping met leuk personeel en een bistro waar je goed kunt eten. Met zwembad en een vis vijver. Er is veel te zien en te doen in de omgeving. Wandelen kan vanaf de camping, die zit aan de rand van een natuur gebied en aan de voet van de Klet waar je een mooi uitzicht punt hebt. Wij hebben weer genoten, gaan volgend jaar weer.
Prachtige camping! Goed sanitair, mooie plekken. Voor iedere wens is een juiste plek te vinden. Heel leuk voor kinderen. Er leuk!
Zeer Nederlandse camping, met de heuvels rondom waan je je eerder in limburg. Goed verzorgde, schone camping. Goed sanitair, winkeltje.
Fijne Nederlandse camping. leuke eigenaren. goed sanitair. restaurant op de camping.
Příjemné a tiché prostředí, individuální přístup , čisté toalety, kvalitní kuchyně v letní restauraci, maximální spokojenost.