Reservation form
calculates the total price of the stay, without the need to complete the booking.
By filling in the data and submitting the form, you agree to its processing and storage by Camping Chvalšiny spol. s r.o. for the purpose of booking.
Caravan campground price
list 2023
* Each camping spot holds a max. of 7 people and one vehicle. The prices are per night. The price list is subject to change.
Low Season
15.4.23 - 30.6.23 and 28.8.23 – 30.9.23
High Season
1.7.23 – 27.8.23
Camping spot with min. 120 m²
420 Kč (17,50 EUR)
530 Kč (22,10 EUR)
Adults/children 12+
130 Kč (5,40 EUR)
180 Kč (7,50 EUR)
Children 12 and younger
90 Kč (3,80 EUR)
120 Kč (5 EUR)
Dog
50 Kč (2,10 EUR)
60 Kč (2,50 EUR)
Tax (adults/children 12+)
15 Kč (0,60 EUR)
15 Kč (0,60 EUR)
ACSI– / ANWB– / ADAC
575 Kč (23 EUR)
-
Internet, showers, electricity
included
included
CampHouse (up to 6 persons)
2.500 Kč (104 EUR)incl. Sep- Jun'23
4.900 Kč (204 EUR) incl. Christmas
TinyHouse (up to 4 persons)
2.500 Kč (104 EUR)
2.900 Kč (121 EUR)
Our booking form will also calculate the total price of the camping fee for you without obligation.
for your caravan, RV, or tent. Every camping spot has a minimum of 120 m2. Book your spot according to the desired sector below. Every spot comes with a 220V connection. Only sector "S" includes some spots without a connection.
we offer you a three-bedroom house for 6 people for year-round use. The house is fully equipped, has two parking spaces and a terrace with a view of the pond, the whole camp and the Klet' mountain.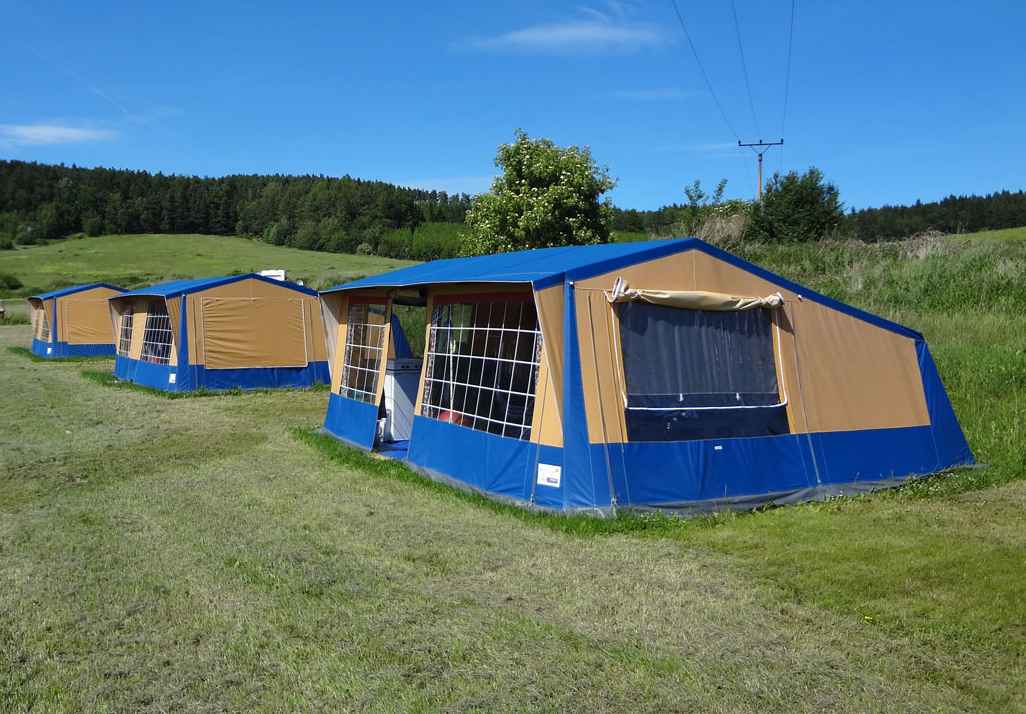 We offer luxurious bungalow tents with five beds. Each bungalow tent is fully furnished and you can even cook and grill here. Park right next to your tent. To book a bungalow tent, you must use our reservation system at https://www.tentfactory.nl/camping-chvalsiny-tsjechie/, where you'll also find other necessary information.